PB4L @ H.W.S
Huntly West Schools PB4L Vision:
"To have a positive learning culture, which will improve outcomes and achievements for learning".
What is PB4L?
Positive Behaviour for Learning School-Wide is a long-term approach that supports schools to create a culture where positive behaviour and learning thrive. Students are taught in very specific terms what behaviours are expected of them. There is a consistent response to these behaviours across the school.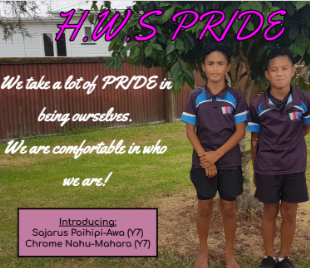 H.W.S Pride in Action
After consultation with the school community, whanau, staff and students of Huntly West School we choose the acronym P.R.I.D.E. Each letter in P.R.I.D.E represents one of our 5 school wide PB4L values.
P-participation
R-respect
I-initiative
D-dedication
E-excellence
"Huntly West tamariki and staff show P.R.I.D.E in all places and at all times!"